May 24 is the International Women's Day for Peace and Disarmament. Through our Gender, Peace and Security program, PNND actively advances the aspirations of this day. We encourage everyone, regardless of gender, to commemorate the day by:
For further background we also recommend reading Human security for public health, peace and sustainable development,  a statement endorsed by more than 250 women legislators, religious leaders and civil society leaders, released on International Women's Day for Peace and Disarmament, May 24, 2020.
---

In January 2022, the Bulletin of Atomic Scientists set the Doomsday Clock to 100 Seconds to Midnight, indicating the high level of risk of nuclear war by accident, miscalculation or crisis escalation. Since then, the risks have increased following the Russian invasion of Ukraine and direct threats of nuclear response by Russia if the West intervenes in support of Ukraine. 

We encourage you to help reduce the nuclear threats by endorsing Fulfil the NPT: From nuclear threats to human security, an Open Letter to the States Parties of the Nuclear Non-Proliferation Treaty who will meet at the United Nations for four weeks in August.

We expect the Open Letter to have some influence on those deliberations. Over 1300 political, military and religious leaders, as well as legislators (parliamentarians and mayors), academics, scientists, business leaders, youth, lawyers, Nobel Laureates and other representatives of civil society have already endorsed.
---
May 24 Commemoration event

Our commemoration event this year is organised in cooperation with Youth Fusion, the G100 (Group of 100 Women Leaders) Defence and Security Wing, Nuclear Wake-Up Call and Youth for TPNW. It has the theme 'Women, Peace & Disarmament: Perspectives and Actions from the Global South'.

Most of the Global South has already prohibited nuclear weapons through regional nuclear-weapon-free zones. As the global north bristles with nuclear weapons, and nuclear-armed states threaten their use (e.g. in the Ukraine conflict), voices from the South for a more secure world without nuclear weapons need to be heard and considered. 
Speakers:
Ela Gandhi, South Africa.

Former Co-President of Religions for Peace, Grand-daughter of Mahatma Gandhi.

Ana María Cetto Kramis, Mexico.

Physics Professor at UNAM. Member of World Future Council. Mexico Women of the Year 2003. Former Deputy Director General of the International Atomic Energy Agency (IAEA)

Le Sen, Cambodia.

Gender and minorities specialist at Women Peace Makers (WPM).

María Garzón Maceda, Argentina.

Research assistant for the WMD and Space Security Programmes at UNIDIR.

Aigerim Seitenova, Kazakhstan, Central Asia.

Human Rights professional and gender expert.
---
Effective participation of women in peace and disarmament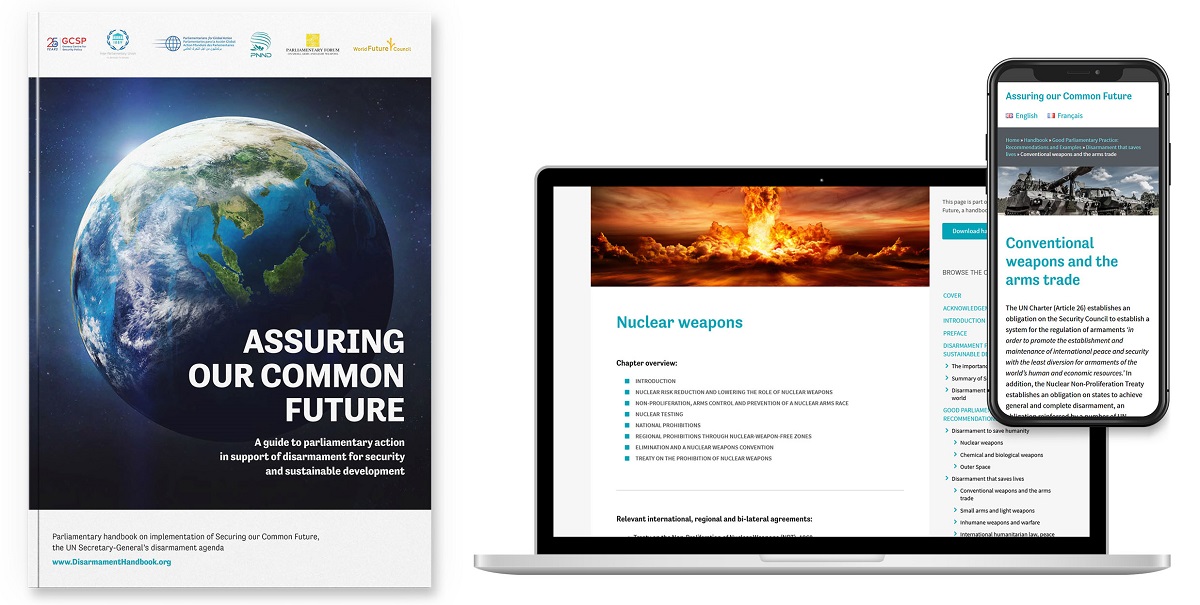 The UN Secretary-General's disarmament report Securing our Common Future, was released on International Women's Day for Peace and Disarmament, May 24, 2018. It notes the importance of gender and disarmament, including to empower women and ensure their equal and meaningful participation in disarmament and arms control decision-making processes. This can lead to more inclusive, effective and sustainable policy outcomes.

The Parliamentary Handbook on Disarmament for Security and Sustainable Development, published in 2020 by PNND and various partners, inlcudes a section on Ensuring participation of women in peace and disarmament which includes examples of successful policies, initiatives and parliamentary actions engaging women in peace and disarmament. These include, amongst others, the Bougainville Peace and Disarmament Process, global women's appeals for peace and disarmament and the exemplary Inter-Parliamentary Union policy on female representation.