On June 15, the United Nations General Assembly unanimously elected Mogens Lykketoft, Denmark's former parliament speaker and foreign minister, as president of its 70th anniversary session.
Lykketoft, who is also a member of PNND, was elected by acclamation. Diplomats from the U.N.'s 193 member states burst into applause when current assembly president, Sam Kutesa of Uganda, announced the result.
Lykketoft  said his top priorities will be to ensure that world leaders "join hands" to eradicate extreme poverty, keep climate change at bay, and promote economic growth. He also wants leaders gathering for the 70th anniversary of the UN in late September to "focus on the road ahead for peace, security and human rights."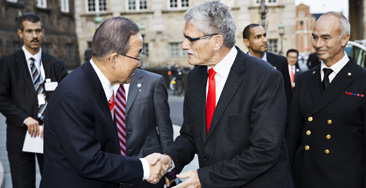 While great progress has been made since the United Nations was founded in San Francisco in 1945, he said the world today is suffering from armed conflicts, terrorism, violent extremism, nuclear proliferation and an increasing risk of new tensions among major powers.
UN Secretary-General Ban Ki-moon said this anniversary year offers Lykketoft "an extraordinary opportunity to shape history."  World leaders will hold a special summit in September just before the annual General Assembly ministerial meeting to adopt new goals to further reduce poverty, promote economic development, and tackle the roots of climate change.
Lykketoft, himself, will turn 70 during the 70th year of the UN organisation.
In a letter congratulating Lykketoft, PNND Co-Presidents Tarja Cronberg (Finland), Sue Miller (UK) and Mani Shankar Aiyar (India) highlighted the important role of the UN General Assembly to promote and facilitate nuclear disarmament.
"This includes nuclear disarmament resolutions, processes such as the UN Open Ended Working Group on Taking Forward Multilateral Nuclear Disarmament Negotiations, and the International Day for the Total Elimination of Nuclear Weapons on September 26."
"Last year we co-founded UNFOLD ZERO, a platform to highlight UN forums, initiatives and mechanisms to achieve a nuclear-weapon-free world... And we have given considerable support to the UN Secretary-General's Five Point Proposal for Nuclear Disarmament which draws heavily from UNGA proposals, including those for a nuclear weapons convention."
The letter noted that PNND is honoured that Lykketoft - a fellow member of PNND – was elected to this position by acclaim, and that PNND looks forward to supporting him in this role.
For more on the election of Mogens Lykketoft see:
UN General Assembly elects Denmark's Mogens Lykketoft as next General Assembly president, Fox News
Air Jordan 1