PNND representatives joined religious leaders, Nobel Peace laureates, government representatives, United Nations officials, academics, and non-governmental representatives at an international nuclear disarmament conference entitled Prospects for a World Free from Nuclear Weapons and for Integral Disarmament hosted by the Holy See at the Vatican on Nov 10-11. 
In a presentation to the conference participants, Pope Francis denounced the possession of nuclear weapons - a move which appears to be a departure from the Roman Catholic Church's position of conditional (and temporary) acceptance of nuclear deterrence.
Pope Francis said that 'humanity cannot fail to be genuinely concerned by the catastrophic humanitarian and environmental effects of any employment of nuclear devices. If we also take into account the risk of an accidental detonation as a result of error of any kind, the threat of their use, as well as their very possession, is to be firmly condemned."
Pope Francis is taking a pro-active approach toward nuclear disarmament which is to be commended, celebrated and supported' says Alyn Ware, PNND Global Coordinator, Co-convener of the Abolition 2000 Interfaith working group and a participant in the conference. 'This should give encouragement to people of all faiths – and also non-religious people – to feel new hope and to be inspired to act for nuclear abolition.'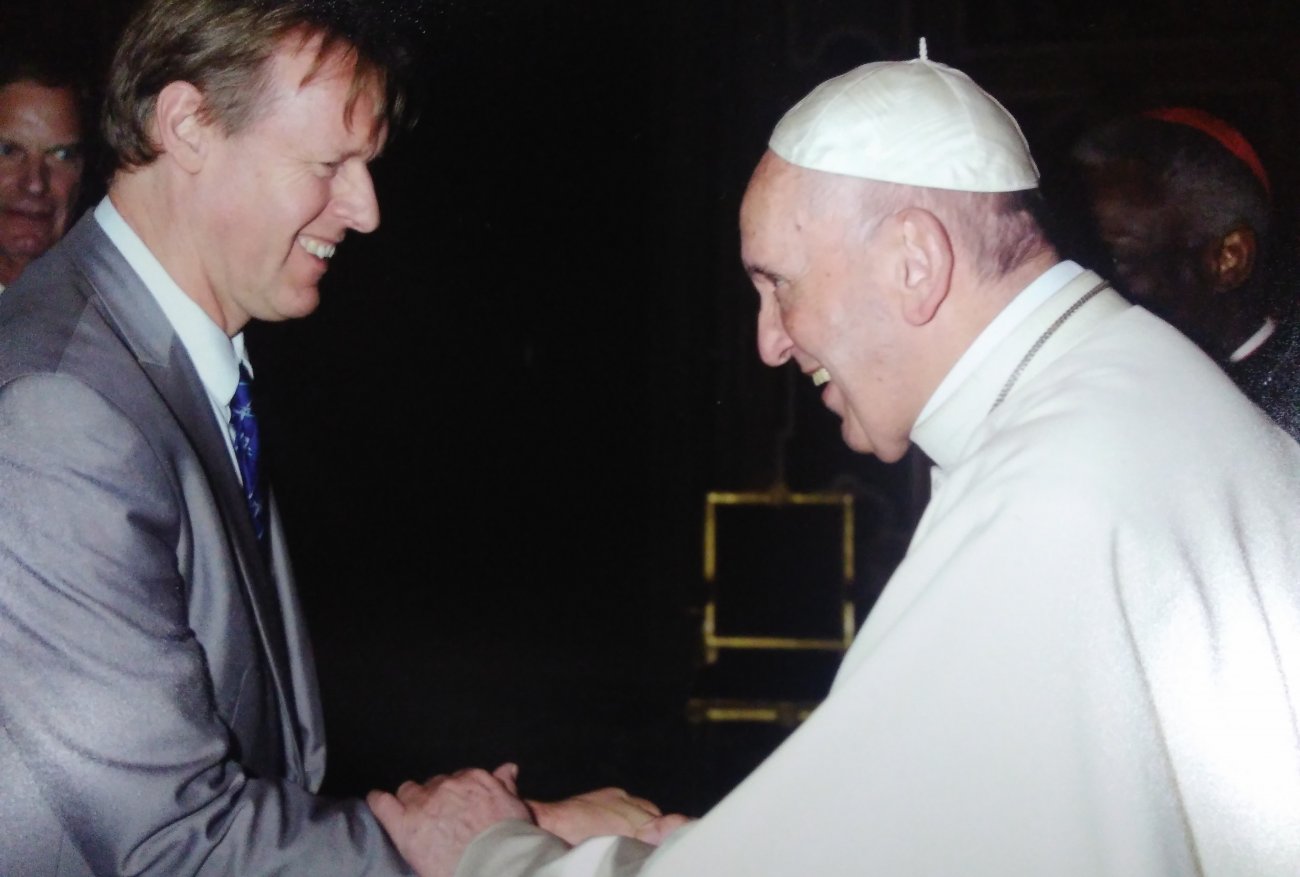 Pope Francis did not directly criticize world leaders such as U.S. President Donald Trump, who has openly threatened nuclear war with North Korea over that country's continuing development of nuclear arms.
However, he remarked that "International relations cannot be held captive to military force, mutual intimidation, and the parading of stockpiles of arms. Weapons of mass destruction, particularly nuclear weapons, create nothing but a false sense of security. They cannot constitute the basis for peaceful coexistence between members of the human family."
While previous popes have strongly called for the abolition of nuclear weapons, in general they also granted conditional moral acceptance to the system of nuclear deterrence. Pope John Paul II, for example, said in a message to the U.N. in June 1982 that the system of deterrence could be judged "morally acceptable" as "a step on the way toward a progressive disarmament.
Pope Benedict XVI, like Pope Francis, condemned the possession and threat of use of nuclear weapons, but has not been as pro-active as Pope Francis on the issue.
PNND leaders have been engaging and cooperating with Catholic leaders and the Holy See on the issue of nuclear disarmament and the immorality of nuclear weapons for a number of years.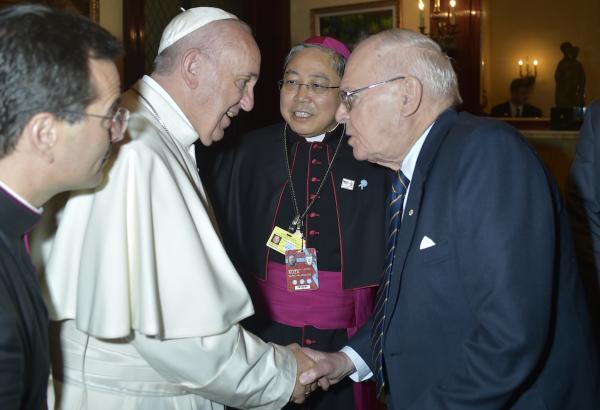 Douglas Roche, the founding Chair of PNND and a partipant in the Nov 10-11 conference, has served for many years as a Special Adviser to the Holy See on disarmament and security matters. In 1995, Pope John Paul II presented him with the Papal Medal for this service, and in 1998 the Holy See named him a Knight Commander of the Order of St. Gregory the Great.
Jonathan Granoff, PNND Global Council Member and President of the Global Security Institute, has co-organised a number of 'Moral Compass' events at the United Nations with the UN Office of the Holy See. These events have focused on the immorality of not only the use of nuclear weapons, but also the threat and possession of them.
Mr. Granoff, who serves as the UN Representative for the Secretariat of the World Summits of Nobel Peace Laureates, and Secretariat President Ekaterina Zagladina presented at the prime time Vatican TV evening news show TV2000 explaining the historic significance of new position of the Holy See.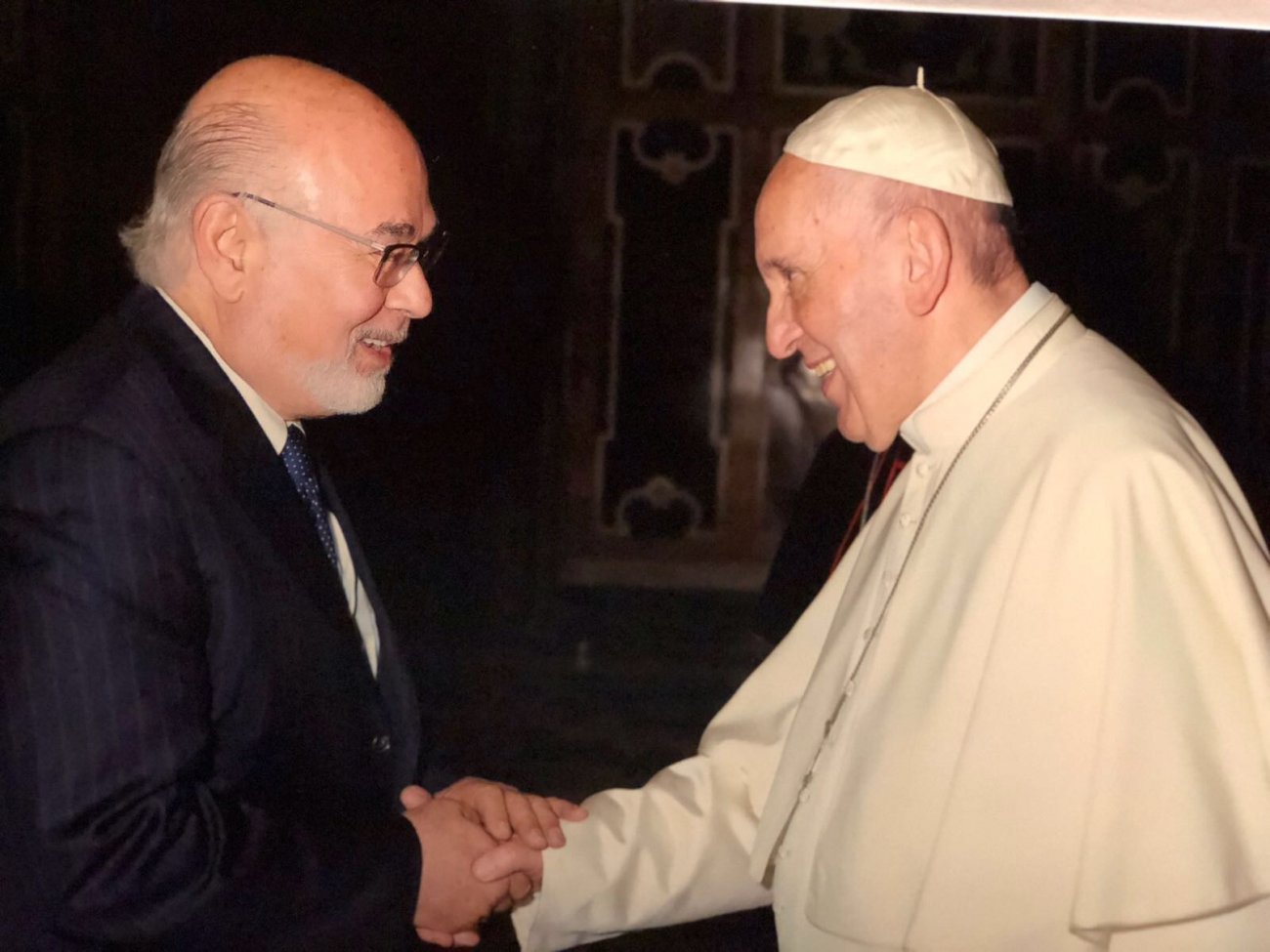 PNND also secured support from a number of Catholic leaders for 'A Nuclear-Weapon-Free World: Our Common Good', a joint statement of religious leaders and legislators.
These included Crdl Raymundo Damasceno Assis (Archbishop of Aparecida, Brazil and Moderator of the  Latin American and Caribbean Council of Religious Leaders), Bishop Oscar Cantú (Chairman, Committee on International Justice and Peace, United States Conference of Catholic Bishops), Marie Dennis & Bishop Kevin Dowling (Co-Presidents of Pax Christi International), H.E. John Cardinal Onaiyekan (Archbishop of Abuja and Co-Moderator of the Religions for Peace-African Council of Religious Leaders) and Mitsuaki Takami (Catholic archbishop of Nagasaki).
Endorsers of the statement 'reject nuclear weapons, which threaten our humanity, contravene our moral principles, violate international law and thwart the safety and well-being of current and future generations,' and 'call upon world leaders to commit to nuclear abolition and to replace nuclear deterrence with shared security approaches to conflicts.'
In June 2017, the joint statement was presented to the United Nations to support the negotiations on the draft Treaty on the Prohibition of Nuclear Weapons. Next year it will be presented to the United Nations High Level Conference on Nuclear Disarmament in order to encourage governments to advance and adopt significant nuclear disarmament measures at the conference.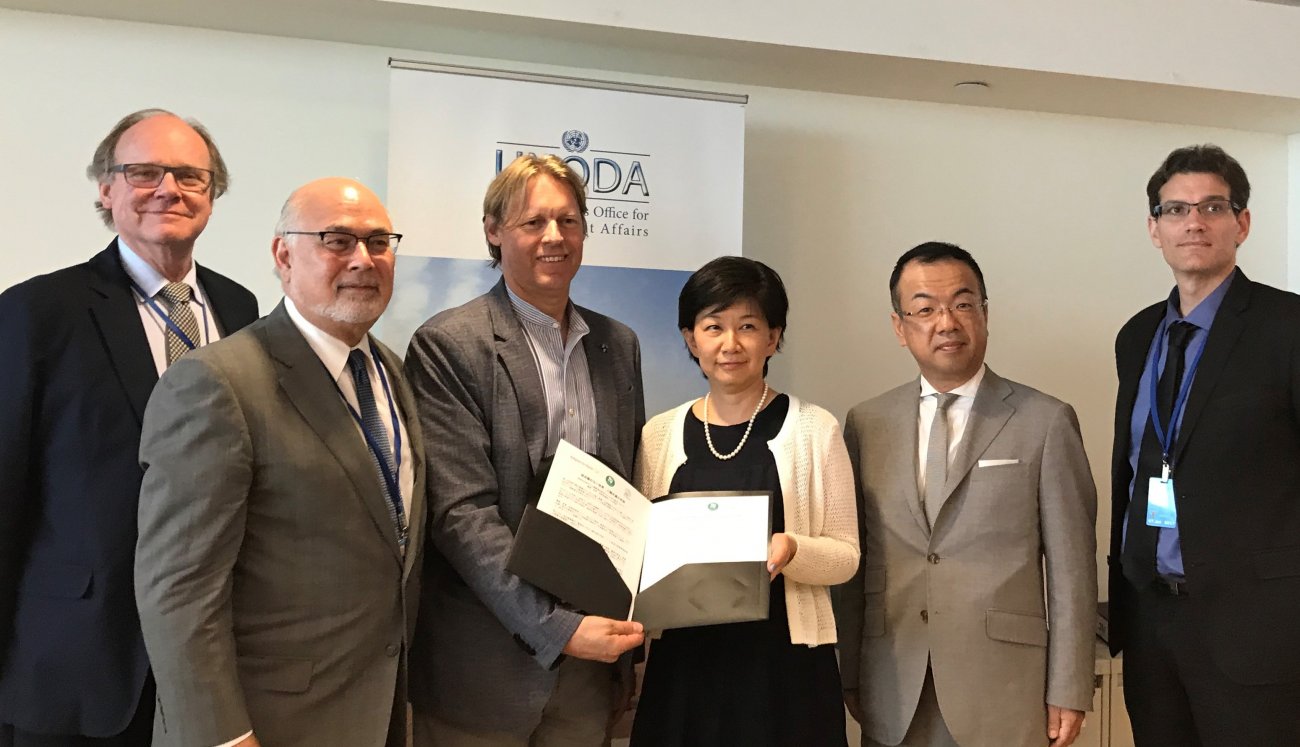 Catholic leaders also cooperated with PNND and Religions for Peace in the Nuclear Disarmament Resource Guide for Religious Leaders and Communities.
The guide, which was released at an international conference of over 600 religious leaders in Vienna in 2013, includes a number of statements on nuclear weapons from Catholic leaders, including from Pope Benedict XVI, Archbishop Francis Chullikat (Permanent Observor of the Holy See to the UN) and the U.S. Conference of Catholic Bishops.
'One can only encourage the efforts of the international community to ensure progressive disarmament and a world free of nuclear weapons, whose presence alone threatens the life of the planet and the ongoing integral development of the present generation and of generations yet to come'
Pope Benedict XVI. Cited in the Nuclear Disarmament Resource Guide for Religious Leaders and Communities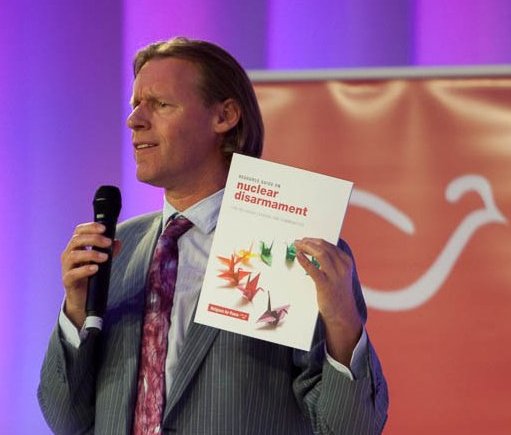 Running Archives